FAQ
Q.I have already created my account but the game sends me to the register page.
A.Any transactions including registrations may take a while to be settled. Once you submit the transaction on iWallet, your transaction is successfully confirmed, so please wait for a moment and access again. 
Q.What"s iGAS and iRAM?? 
A. iGAS is a transaction fee that the network needs to operate any transactions, and iRAM is a storage resource. When you find something is wrong, maybe that's because of iRAM shortage. In that case, please open your iWallet and you can see "Manage iRAM resource" in the red box below.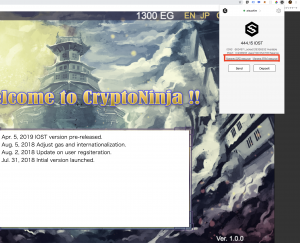 Check it and if you see the blue bar of iRAM is quite long like below, please purchase iRAM.  30 to 40 KB should be enough.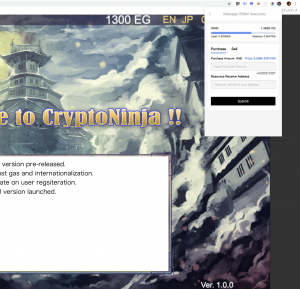 You can also either sell your iRAM to the IOST system or buy iRAM for another IOST account holder. When buying or selling, it will cost you 2% of the trade fee. For more information on iRAM and iGAS, visit here. 
Q.Why do I have to set traps  and reward to Castle?
A. To guard Castle from attack by other Ninjas! When you succeed in Guard, you get the half amount of EG you set in your castle. You need think carefully where and which traps you set to drive enemy Ninjas away! 
Q.What do the messages under each castle mean?
A.You can see the information who have attacked the castle and when and how many attacks to the castle have taken place. 
Q. What is the information for, anyway ?? 
Once a Ninja steps on a trap, the trap damages the Ninja and disappears, which means, the more the castle is attacked, the more likely the castle has fewer traps, right?? 
So it is wiser to choose castles with many attacks by other Ninjas. 
But when you see messages like below "Set Traps", it means that the owner of the Castle has set the traps, so it may be full of traps. 
Use those messages for your attacks.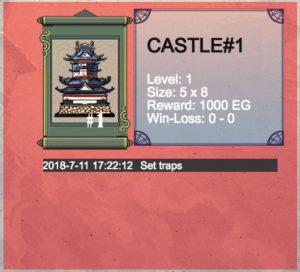 Q.I can'y scroll the Ninja and Castle windows…。
A.Please try scrolling with your mouse clicked. 
Q.What the level of Ninja and Castle?
A. When your Ninjas attack or Castles guard, they get EXP. As your characters get the point, they level up, and as they level up, Ninja gets more HP, and traps set in the Castle get more power.  
Of course when you succeed either in Attack or Guard, you get more EXP.
※EXP is not shown on the game. 
Q. I have a question and how can I contact CryptoNinja team??
For any questions, comments, bug reports, etc., we have our official Telegram group, so join from the link below! Or we also have official Twitter, please feel free to reply or DM us!!
Telegram : https://t.me/cryptoninjagame
Twitter : https://twitter.com/CryptoNinjaGame